Once someone said: you don't take a photograph, you make it. Photography is another form of art that catches the eye of people throughout years. Photographers got used to experimenting with lights, shadows, and various elements. As web designers did, too. For this reason, an eye-catching design mixed with your incredible photos can turn out to be a real attention-grabber. For this reason, we want you to get familiar with top 5 photographer WordPress themes. Believe us, with the help of them, you will get success in one click of your photo-camera button.
Actually, it's pretty obvious that you need to launch a website in order to make others be impressed with your photography skills. Yet we haven't said anything about WordPress being one of the best platforms for your photographer portfolio. Let's check them out right now!
Why Choose WordPress to Build a Photographer Website
There is no need to be a professional web-developer in order to work with WordPress. You can play around with your content and adjust all options up to your needs.
WordPress is constantly updated. With every single update, this platform becomes more and more secure, providing its users with a stunning experience.
This platform is built with a SEO-optimization in mind, giving your website the opportunity to be on the top in search results.
There are a vast number of top themes for WordPress on the web. By means of them, it will take you nothing to build a fully-professional website that is rendered perfectly on diverse gadgets.
If you need some additional functionality, WordPress will impress you with a lot of plugins developed for various needs.
If you have a sharp imagination, an unmatched aesthetic sense, and a lot of inspiring ideas, there is no need to hide them from the world. Capture not only people and landscapes – capture everyone's attention by means of these templates. So, it's time to take a look at them…
Raymond Jones – Extraordinary WordPress Theme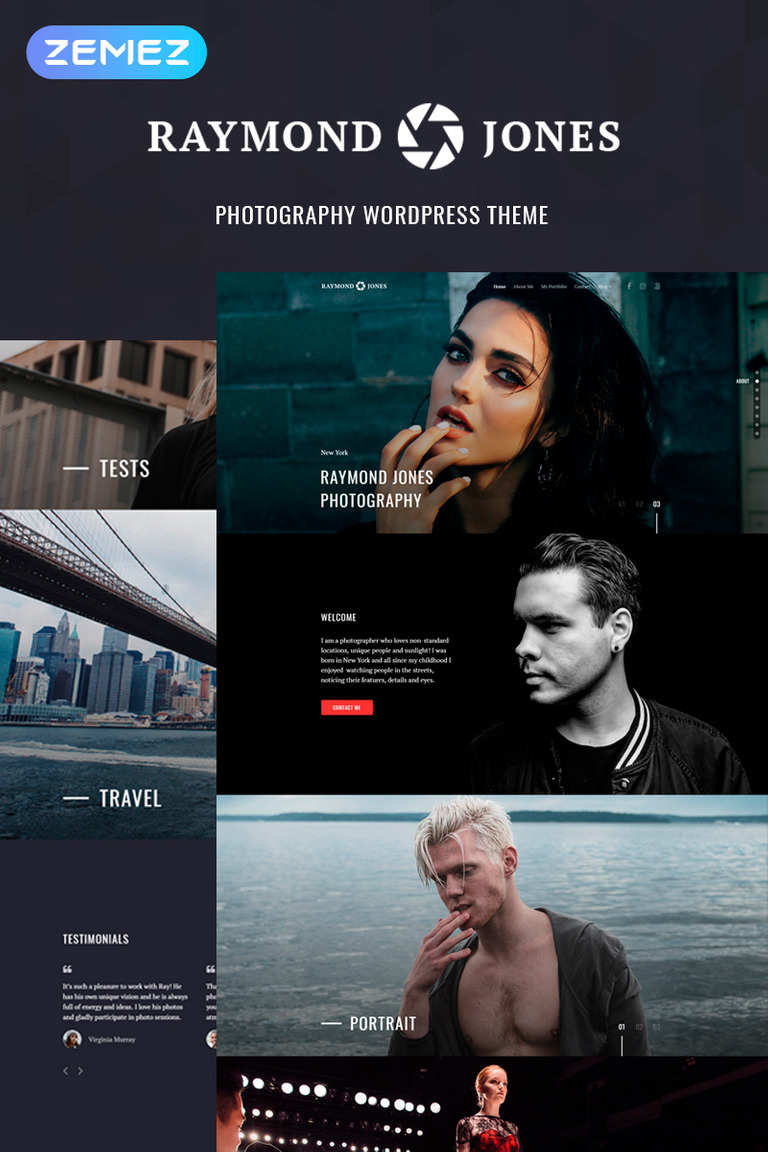 Are you in love with shooting unusual locations, kind-hearted people, and stunning details? With the help of this well-favored template that comes pre-loaded with a well-balanced layout, top-notch Elementor Builder, and marvelous blog layouts, you will be ready to express your passion. Let your imagination run wild together with eye-catching Google Fonts that will allow you to freshen your website up. In addition to this, you can make your viewers be impressed with a user-friendly Cherry Search.
Imagico – Minimalist WordPress Theme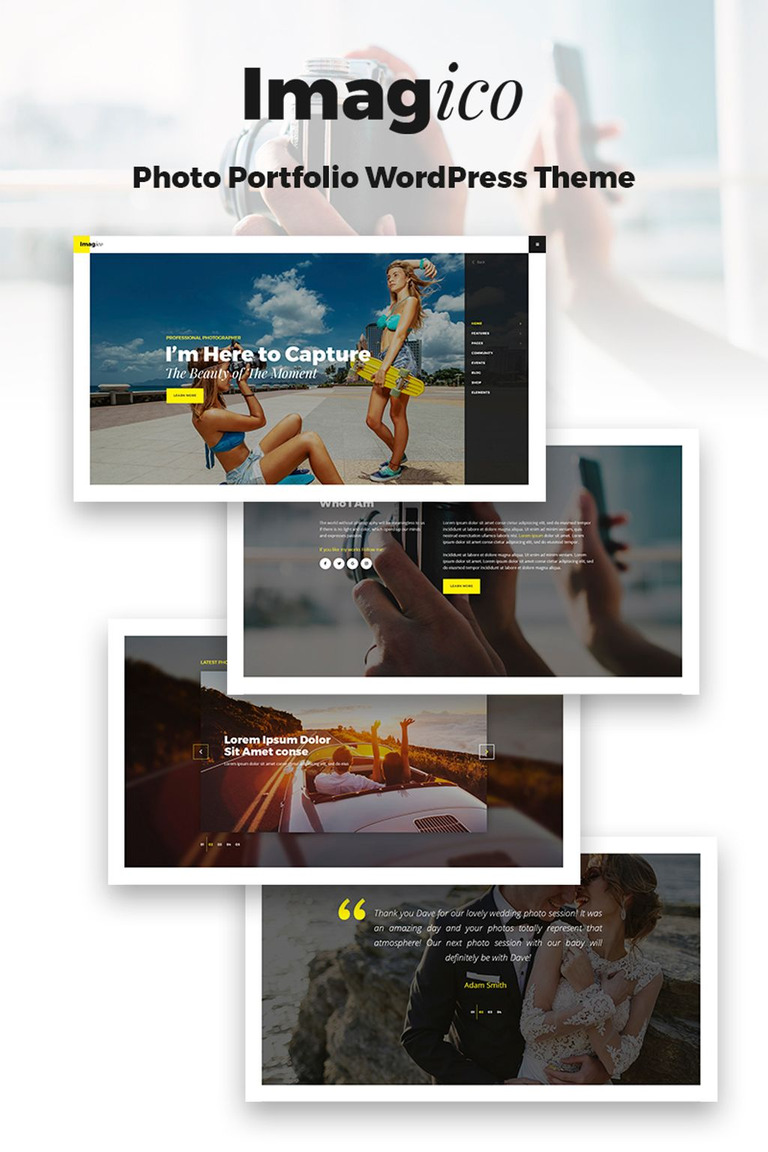 Imagico is an incredible template designed for those who cannot hide their talent from the world. Make use of splendid additional pages in order to describe your creative activity and make people be interested in your photos. Furthermore, set your eyes on the wonderful Events feature that will allow you to tell about upcoming meetings or photoshoots. With the help of WordPress Live Customizer, you will be ready to alter your design within minutes and spend more time taking photos.
ZoomIn – Monochromatic WordPress Theme
Do your photos distinguish themselves from others by their unusualness? In this case, this astonishing theme designed in black-and-white colors will certainly get the message across. By means of seven header and three footer styles, you will be able to add a fresh coat of paint to your portfolio. Meanwhile, such plugins as Cherry Projects, PopUps, Services List, and Team Members will promote your creative works and engage as more new viewers as possible.
FrameMe – Excellent WordPress Theme

A tender template that will impress your visitors with its low-key palette of colors and handwritten typography. With the help of four blog layouts, it will take you nothing to share a plenty of photography tips in a stylish and elegant way. In order to power your website with social networks, FrameMe also includes a marvelous Cherry Socialize plugin. Finally, you will get a wonderful chance to modify your pages together with a robust Elementor Builder.
Shootz – Vibrant WordPress Theme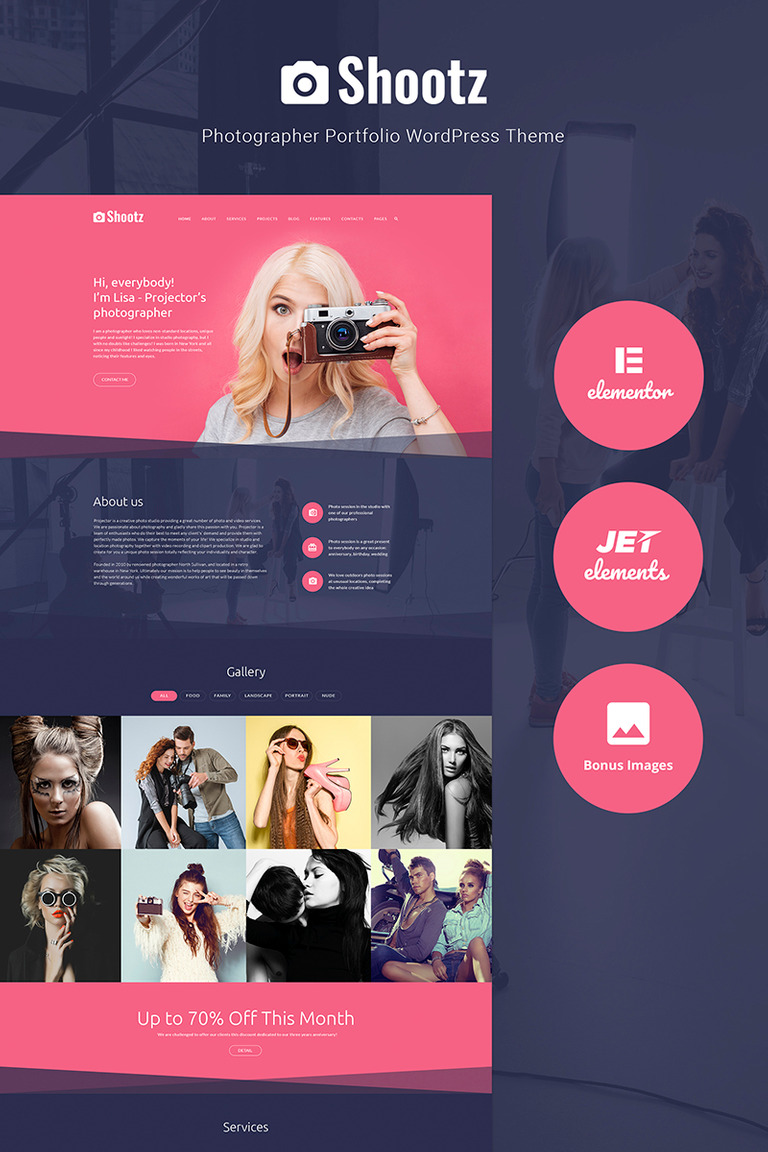 Shootz is a bright template that will transform your website into a true splash of rich colors. By means of fascinating additional pages, you will get the opportunity to showcase your photography in the best possible light. Furthermore, it will be possible to build your content using a feature-rich Elementor Builder. Keep in mind that you can play around with diverse header and footer styles, blog layouts, and Google Fonts to represent your identity online.
Make everyone adore your photos together with one of these stunning templates. We are completely sure that you will gain success if you decide to showcase your talent with them. May inspiration be with you and thanks for reading!
Share and Enjoy